Just How Reliable Are Top Gas Range and Oven Brands?
The Lifetime Cost of Appliance Repair
When it comes to buying appliances, we often overlook the fact that, like cars, there is a lifetime cost associated with which brand and model we decide upon.
How often will the appliance need to be repaired?
How costly will the repairs and replacement parts run?
Although one brand may be costlier to buy, if said costlier model is more reliable, you will likely end up saving money in the long run if you chose it.
Consumer Reports Reliability Findings
Unfortunately, there isn't a tremendous amount of firsthand data about appliance reliability. For instance, the mighty Consumer Reports judges the reliability of major gas range brands based on a single self-reported survey of 6,114 subscribers who purchased a new range/oven between 2010 and 2015.
"The graph shows the estimated failure rates for 3-year-old gas ranges by brand that were purchased new. Differences of fewer than 4 percentage points are not meaningful."
Chart Source:ConsumerReports.org
The problem with self-reported data is that people are susceptible to misremembering. "If I recall correctly, we've only had it serviced once. Or was it twice…" These unintentional misremembering's can skew the data.
Neither does the Consumer Reports survey provide insight into all brands, nor into the cost of repairs and replacement parts. There must be a better source for data, right?
Hometown Hero Appliance Repair's Reliability Findings
Thankfully, Hometown Hero Appliance Repair has been performing repairs and selling replacement parts since 1988, which gives us years and years of firsthand data on the reliability of these brands—not only how often they need repairs, but how costly those repairs can run.
So, how do Consumer Report's Top 5 Gas Range Single Ovens brands stack up when it comes to repair?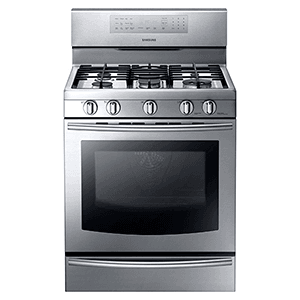 Frequency of repair:  Infrequent 
Average cost of repair:  Inexpensive 
Samsung receives our strongest recommendation for brand. In fact, Samsung ranges break so infrequently that it's difficult to pull any meaningful data about rates of repair or failure. And most of the repairs we have performed have been minor, like fixing a misbehaving sensor.
Top Model: NX58F5700WS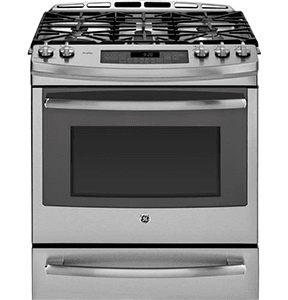 Frequency of repair:  Moderate 
Average cost of repair:  Moderate 
Although less reliable than Samsung ranges, we at Hometown Hero Appliance Repair generally don't see many major failures on GE ranges, beyond maintenance parts like sensors and elements. But, when needed, replacements parts are more expensive.
Top Model: PGS920SEFSS Range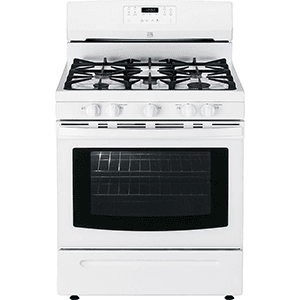 Frequency of repair:  Often 
Average cost of repair:  Expensive 
It's important to know that Kenmore builds nothing, but instead slaps the Kenmore brand name on appliances built by other companies. The resulting "product", sold at lower prices, generally provides an inferior product and customer experience as compared to buying the equivalent model from the Original Equipment Manufacturer (OEM). When repairs are needed, as they often are, the parts tend to be expensive, because most are purchased from the OEM, marked up and relabeled as Kenmore parts.
Top Model: 74132 Range

Frequency of repair:  Infrequent 
Average cost of repair:  Inexpensive 
LG is our second recommendation when it comes to brands, as it another well-built Korean option like Samsung, with few expensive repairs.
Top Model: LRG4113ST Range

Frequency of repair:  Moderate 
Average cost of repair:  Expensive 
Bosch ranges aren't a bad product, but they are challenging from a repair standpoint. Bosch parts are more costly by nature (as European brands tend to be) and more challenging to procure. Not to mention fewer servicers will work on Bosch appliances; so if they do break, you could find yourself in a pickle.
Top Model: HDI8054U Range
Conclusion
Samsung and LG are the most reliable and inexpensive brands when it comes to repair. Although Samsung comes out slightly ahead when we crunch our numbers, the difference isn't enough for us to unequivocally declare Samsung the winner.
We recommend both brands and encourage you to select a model with the features you desire. Of course, Consumer Reports does provide good data regarding the functionality of each make and model, so there recommendation for top ranges within each brand can be trusted.
One thing we can unequivocally state: think twice before purchasing a Kenmore.